MAIL ORDER INFORMATION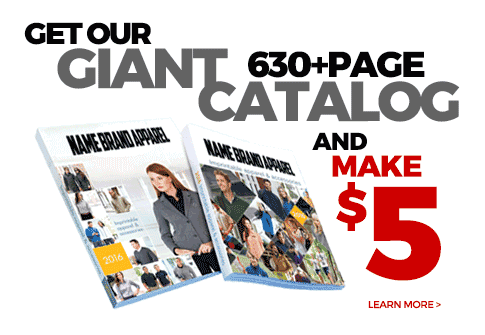 NameBrandApparel.com welcomes orders by mail, as follows:
1) Shop the online store as normal, adding items to your cart by quantity, color and size.
2) Once all items you want are included in the store cart, print out the shopping cart page showing the items and product dollar total.
3) Add the shipping amount to the product total: orders with product purchase totals less than $30 are shipped via UPS Ground at a flat rate of $9.95; orders with product purchase totals between $30 - $74.99 are shipped via UPS Ground at a flat rate of just $7.95; and orders with product purchase totals over $75 are SHIPPED FREE via UPS Ground!
4) Write the complete street address to which you want your order shipped directly onto the printed pages. Remember, we cannot ship to P.O. Boxes by UPS, only to street addresses!
5) Create a bank check or money order payable for the EXACT amount of the product and shipping costs, payable to Cleveland Creative, Inc. (Checks provided in excess of the order amount will not generate a refund and may be considered fraudulent, thereby cancelling the order.) Personal or business checks may be accepted but only at our exclusive discretion; personal or business checks most likely will delay the shipment of your order by at least 10 days while we wait for payment to fully clear to our account.
6) Mail the check or money order to: Cleveland Creative Inc., NameBrandApparel.com, 8069 Amber Lane, Cleveland, OH 44141.
See our TERMS & CONDITIONS for additional details.