"Thanks! I always have such great service from you."
— Annie Isley, Hesperia, MI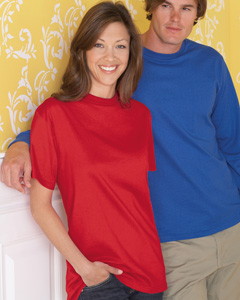 Welcome! Thank you for visiting Name Brand Apparel.
This website features the world's best apparel brands from the most widely worn sportswear categories.
Brands like Champion, adidas, Jerzees, Hanes, Yupoong, Columbia, Hanes, Weatherproof, Ashworth, Gildan, Bella + Canvas, and many, many more. [See a complete list of BRANDS in the menu at the right. >>>]
Name Brand Apparel is NOT about 'high fashion': no prima donna designers or their high-priced haute couture styles will be found here.
Rather, we focus on internationally-known brands from major mills that manufacture everyday basics, performance sportswear, and casual gear.
Basics like T-shirts, sweatshirts, hats and hoodies. Fitness gear and tech-fabric sportswear. High-performance outerwear. Sports shirts and golf shirts. Casual business apparel. Youth and children's clothing.
So please, look around Name Brand Apparel. Check out the detailed information presented not only on our world-famous apparel brands, but on many specific styles from each of those brands.
Then shop each manufacturer's store — or our own The Factory Store — for some great deals!
(Click here to learn more about shopping Name Brand Apparel.)