Name Brand Apparel has a new look and a new way to save even more money in 2016!
As always, you can get factory-direct pricing on major label T-shirts, sweatshirts, hats, sweatpants, hoodies, golf shirts, performance sportswear, garment dyed styles and accessories. Shop by apparel category or brand to find the style you want at low discount pricing!
But we've also created a brand new way to shop this year, and it can save you even more money — if you are willing to let us ship the brand from the mill offering us special pricing that week! We call it "Smart Shopping"!
SMART SHOPPING: IT'S QUICK, EASY & SAVES YOU MONEY!
The major apparel mills all make great basics. T-shirts, sweatshirts, hoodies and sweatpants are always top-quality when they come from mills like Hanes, Gildan, Jerzees, Fruit of the Loom, Russell, Anvil, etc.
When one of these major mills wants to promote a specific item, they offer us a special deal for a limited time. Then for a couple of weeks we pass the savings onto our customers for that item.
Since we work with all of the major mills, there is always some brand of T-shirt or sweatshirt or hoodie available to us at a promotional discount.
But taking advantage of those mill deals also means constantly changing prices in our online store, which in turn forces our customers to search through the cart to find these specials.
So we came up with a better idea: SMART SHOPPING.
SMART SHOP: T-SHIRTS | SWEATSHIRTS | HOODIES | SWEATPANTS
YOU PICK THE COLORS & SIZES, WE PICK THE BRAND
SMART SHOPPING at Name Brand Apparel works like this: you choose the STYLE (for example, a 6 oz. 100% cotton T-shirt) then select the COLORS and SIZES at any QUANTITY to checkout. Then we ship the BRAND currently on special for that style so you always get the mill deal price!
QUANTITY DISCOUNT PRICING still applies, too. Order just 12 pieces of a style regardless of size or color, and the already-discounted price goes down even further! Additional price breaks at quantities of 36, 72 and 144 too.
FREE SHIPPING applies to every order over $75, with two flat-rate shipping fees for smaller orders. Plus FREE RETURNS by UPS Call Tag.
The product quality from all of these major mills is superior, and their regular prices are usually just pennies apart. So SMART SHOPPING means you get the mill deal brand that saves you money without having to think about it!
SMART SHOP: T-SHIRTS | SWEATSHIRTS | HOODIES | SWEATPANTS
WHY SMART SHOPPING WORKS FOR APPAREL BASICS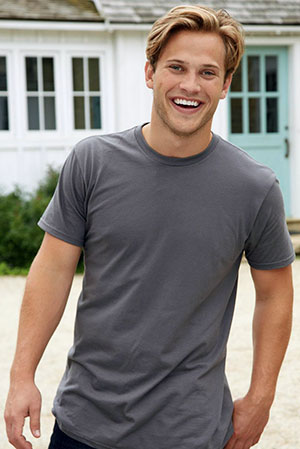 Cut out the tags from the T-shirts of the major mills and run a blind test to name each brand, and even our execs would find that difficult.
Realizing this, we set up a test program last year with some of our best customers to charge them a consistently discounted price on every purchase they made provided they let us pick the brand of apparel for their order. Of course, we matched the style they wanted each time (i.e. that 6 oz. 100% cotton T-shirt), but the brand we shipped would rotate based on which mill was giving us a discount at that time.
The result: OUR CUSTOMERS LOVED IT!
So for 2016, we've decided to completely change how we sell apparel basics to ALL of our customers, so everyone saves time and money.
We've restructured our online store to offer basic apparel only by style/color/size, removing the brand choice. The sales page for each style lists the brands that will be used fulfill a purchase. And we list the deep-discounted price for every color and size.
After we receive your order, our staff picks and ships the apparel brand based on the mill deal available to us at that time.
Save money every time on premium-quality apparel basics with SMART SHOPPING from Name Brand Apparel!
SMART SHOP: T-SHIRTS | SWEATSHIRTS | HOODIES | SWEATPANTS
PREFER TO PICK A SPECIFIC STYLE OR BRAND?